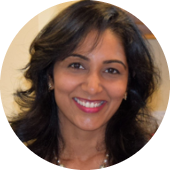 Deepthi Mundra, DDS
Metro Dental
1237 Hwy 35 South
Forest, Mississippi 39074

About Deepthi Mundra, DDS
Dr. Mundra graduated from University of Minnesota School of dentistry and also received certification in contemporary restorative and esthetic dentistry there.

She is a member of American Dental Association, Academy of General Dentistry & American Academy of Cosmetic Dentistry.

With 13 years of experience as a dentist, she is proficient in all aspects of general dentistry and strives to offer her patients all the services they need under one roof.

Her husband's acceptance as a fellow in Radiation Oncology at UMC brought her from Wisconsin to Jackson, leaving behind a successful practice. She lives in the Jackson suburbs with her husband and two girls. She volunteers her time and dental expertise in giving back to the community.
Metro Dental
1237 Hwy 35 South
Forest, Mississippi 39074
Get Directions