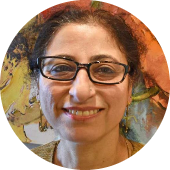 Deepika Bhargava, MD
Exult Healthcare
4801 Medical Center Drive
Mckinney, Texas 75069

About Deepika Bhargava, MD
Dr. Deepika Bhargava (who is lovingly known by staff and patients as Dr. B) is board-certified in Adult and Geriatric Psychiatry and Addiction Medicine. Dr. B serves as the medical director of Exult Healthcare.

Dr. B did her externship at St. Elizabeth Hospital, in Washington, D. C. She went on to do her residency in Psychiatry at Wright State University in Ohio. Finally, Dr. B did her fellowship in Geriatric Psychiatry at UT Southwest.

Dr. B has held many leadership positions and served as Medical Director at Haven Behavioral Hospital, Allegiance Hospital (in Tyler and Keller, TX). She currently is a member of American Association for Geriatric Psychiatry and Obesity Medicine Association.

Exult Healthcare was conceptualized when Dr. B wanted to combine her passion for mental health and addiction.

During her free time, Dr. B enjoys time with her husband and their three children.

She loves to cook and spend time with her two dogs, Sugar and Oreo.
Exult Healthcare
4801 Medical Center Drive
Mckinney, Texas 75069
Get Directions