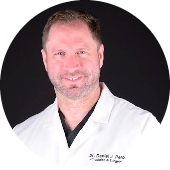 Daniel Pero, DPM
Dr. Daniel Pero, DPM
5405 Okeechobee Blvd
West Palm Beach, Florida 33417

Dr. Daniel Pero is a board-certified Podiatrist and foot & ankle surgeon who has been practicing in the West Palm Beach area since 2009. He specializes in minimally-invasive Podiatric Surgery, but his practice includes all pathologies related to the foot or ankle, as well as sports medicine, regenerative medicine, vein disease and aesthetics. His practice principle is to treat the underlying cause of the problem of every patient, in addition to the just the symptoms or appearance.​

Dr. Pero received a Bachelor's Degree and has national certification in Medical Technology (Clinical Laboratory Science) from Michigan State University, and has continued to study health and nutrition extensively.​ He earned his Doctor of Podiatric Medicine degree from the Ohio College of Podiatric Medicine at Kent State University in 2006, and completed rotations at the world-renowned Cleveland Clinic.​ He then successfully completed a 3-year Foot & Ankle Medicine and Surgery Residency training program at St. John Providence Hospital & Medical Centers near Detroit, Michigan, where he also completed certification in Microsurgery. He continues his professional education and holds several certificates in aesthetic medical procedures and laser.​

Dr. Pero is a board-certified Diplomat of the American Board of Podiatric Medicine (ABPM) and a foot & ankle surgery board-qualified affiliate member in good standing of the American College of Foot & Ankle Surgery (ACFAS). Dr. Pero is an active member of the Academy of Minimally Invasive Foot and Ankle Surgery (AMIFAS). He performed the very first minimally invasive foot and ankle surgeries at the Palm Beach Gardens Regional Surgery Center, an affiliate of miVIP Surgery Centers, a nationwide VIP ambulatory surgery center group which focuses on minimally invasive and robotic surgery techniques.​

Dr. Pero has been performing MIS (minimal invasive surgery) procedures for several years and has received training from some of the few international pioneers in these techniques that have decades of MIS experience.​He has been actively involved in teaching podiatric surgery residents, and continues to learn the latest podiatric medicine and surgery techniques. He has been actively participating in continuing education seminars and conferences nationally every year with a focus on minimally invasive surgery and vein treatment. He is also active in instructing other physicians on cosmetic vein sclerotherapy.
Dr. Daniel Pero, DPM
5405 Okeechobee Blvd
West Palm Beach, Florida 33417
Get Directions