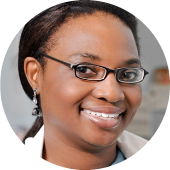 Clara Osuji, MD
General Medicine Clinic
4654 Hwy 6 N
Suite 308
Houston, Texas 77084

Dr. Clara Osuji is an internist and primary care doctor treating patients in Houston, Texas, and the surrounding communities. She combines her private practice with rounds at the North Cypress Medical Center. Dr. Osuji is also a member of professional organizations including the American College of Physicians .

Dr. Osuji attended the University of Houston at Houston for her undergraduate degree, earning the Outstanding Student Award for Biochemistry for her academic excellence. She pursued her medical degree at the Howard University College of Medicine. Dr. Osuji continued her medical education at the Howard University Hospital, receiving her residency training in internal medicine.

Patients visiting Dr. Osuji can receive a full range of medical services. She provides disease screenings, annual physical examinations, annual gynecological examinations, preventative medicine, and general consultations. Treatment is available for issues including migraine, sinus problems, high blood pressure, asthma, obesity, sore throat, and allergic cough. In addition to her practice, Dr. Osuji has participated in research on subjects including the epidemiology of immune-resistant infections and the enhancement of milk casein to improve its digestibility.
General Medicine Clinic
4654 Hwy 6 N
Suite 308
Houston, Texas 77084
Get Directions