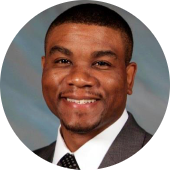 CHRISTOPHER WILLIAMS, MD
Urology Consultants Inc.
About CHRISTOPHER WILLIAMS, MD
Dr. Williams is a graduate of the prestigious National Cancer Institute Urological Oncology Program at the National Institutes of Health. He is one of only a few fellowship-trained urological oncologists in Jacksonville, FL. For approximately 10 years, he was the sole urological oncologist at UF Health Jacksonville, where he diagnosed and treated thousands of cases alone and in collaboration with specialists from other disciplines as the head of the multidisciplinary genitourinary cancer program. He also served as the Chair of the hospital-wide Cancer Program for more than 5 years. His ability to simplify complicated cancer concepts and offer fair recommendations always in the best interest of the patient attracted patients to him nationally and internationally. Unhampered by the rigors of a busy academic practice, he can now offer his unbiased diagnostic and consultative expertise to patients in the comfort and convenience of a private office setting.

If you or someone you know have ever been told "you have cancer," you likely recall the strong emotions and abundance of questions elicited. But you probably did not remember much that was discussed after those dreaded words were uttered. With a diagnosis of cancer there are so many treatment options and questions to consider that it can be emotionally overwhelming. Patients often wonder "are the doctors telling me everything, do they know the best treatment options, do they really care or are they just looking out for themselves?"

At Urology Consultants, we help patients feel more confident during this process. Dr. Williams and his staff help those diagnosed with urological cancers understand their options in a no-pressure situation. Dr. Williams has built a reputation for fairness and objectivity and he routinely sees patients from all over the US, and occasionally internationals, seeking his guidance. You have questions. Urology Consultants has answers. Contact us today to schedule your consultation or diagnostic appointment.
8708 Perimeter Park Blvd
Suite 4
Jacksonville, Florida 32216
Get Directions