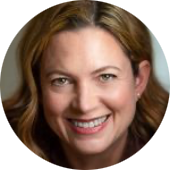 Arian Nachat, MD
Encompassing Care Alliance
After completing her training at Beth Israel Medical Center and dual board certification in Emergency Medicine and Hospice & Palliative Medicine, Dr. Arian Nachat pursued additional training in Traditional Chinese Medicine (TCM) and Pain Management. She founded and directed the first inpatient Integrative symptoms management service for Kaiser Permanente in California, where she conducted peer reviewed EBM translational research.

Dr. Nachat is the past Chair of the America Pain Society CAM special interest group, served as an authoring member of the Oregon Health Authority Opiate Taskforce state guidelines and has successfully implemented multi-modal pain management best practices across healthcare systems on the west coast. In addition to her clinical responsibilities, she regularly lectures across the nation on pain management.

Dr. Nachat is CEO and founder of Encompassing Care Alliance, PC - a consulting and advocacy company focused on empowering institutions, clinicians and patients to engage together in meaningful advance care planning. A firm believer in integrating the best of allopathic ad traditional modalities, Dr. Nachat also leads a concierge palliative oncology practice which specializes in minimizing a patients' therapy and disease-related symptoms, while optimizing their quality of life.

Additionally, Dr. Nachat is a practicing Emergency medicine attending & teaching faculty at Legacy Health in Portland, as well as at the VA Medical Center and the Navel Medical Center in San Diego.
She was recognized by Kaiser Permanente as an innovator and change-maker for her work. Most recently, she was named a Top Doc by her peers for the second consecutive year.
Encompassing Care Alliance
7524 Se Milwaukie Ave
Portland, Oregon 97202
Get Directions