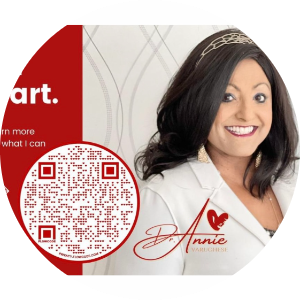 Annie Varughese MD, MD
Dolce Vita Cardio
About Annie Varughese MD, MD
Dr. Annie Varughese, MD, FACC, a highly renowned interventional cardiologist and international speaker regarding the issues of Preventive Cardiology and of Women and Heart Disease, practices the art of Cardiovascular Medicine. Currently she is a Consultant Cardiologist in Houston, Texas as well as in Prime Hospital and German Heart Centre, Dubai. She is also Chief Medical Officer for Merlin Life Sciences, Dubai, and holds the title of Adjunct Professor at Baylor University, Texas, USA.

She raised herself from humble beginnings and attended the Medical College of Georgia, Augusta, Georgia, subsequently completing her residency in Internal Medicine and Fellowship in Cardiovascular Diseases at the University of Texas Medical School at Houston. She then attended The Texas Heart Institute/Baylor College of Medicine for further training in Interventional Cardiology. She is board-certified in Cardiovascular Disease, certified in Interventional Cardiology and Nuclear Cardiology and for many years she held the title of Clinical Assistant Professor of Medicine at the University of Texas Medical School at Houston. She was rewarded for her hard work when she was voted one of America's Top Cardiologists/ Consumer Research Council of America for 2011. She has earned many awards and accolades which include being a member of Trademark's Who's Who Among Professionals in America.

Dr. Varughese has over twenty years of experience in the realm of Cardiovascular Disease diagnosis and treatment and is passionate about her message of Prevention. She now promotes her message of wellness at medical conventions and seminars all over the world, imploring the public to do the little things that will keep their heart ticking. Having accomplished so much in her own life, she wants to ensure that her patients are, likewise, healthy enough to achieve their dreams. She has co-authored two books: The High-Octane Teen and How to Be A Healthier Slimmer You.

Dr. Varughese has always enjoyed teaching health and wellness and she now has the opportunity to do such in her new Web Series "Live the V-Life With Dr. Annie featuring the latest in Health and Beauty. Dr. Annie Varughese is also Past Chair of The American Heart Association Go Red For Women (Montgomery County) for 2014-2015.