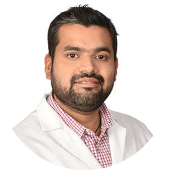 Ankur Bahri, DPM
DeLoor Podiatry Associates
Ankur Bahri, DPM is a Foot and Ankle specialist and holds medical licenses to practice in New York and New Jersey. He has extensive training and experience in all aspects of podiatry, including advanced surgical techniques, laser cosmetic and reconstructive surgery of the foot and ankle. He provides both adult and pediatric patients with competent, compassionate care and all patients are treated utilizing the most medically advanced techniques.

Dr. Bahri was born and brought up in India and moved to Toronto, Canada in 2004 where he completed his Bachelor in Science degree at the prestigious University of Toronto. He later moved to United States to finish his four years of podiatric school at New York College of Podiatric Medicine.

Dr. Bahri has strong research background and has published research articles in the Journal of Foot and Ankle Surgery. He has completed his three years of podiatric medicine and surgery residency training at Mount Sinai Hospital in Manhattan and Queens.

Dr. Bahri makes it his top priority to take care of his patients and be available at all times. He is multi-linguistic, speaking English, Hindi and Punjabi fluently. He is a member of American Board of Foot and Ankle surgery and American Board of Podiatric Medicine.
DeLoor Podiatry Associates
39 West 32Nd Street
Suite 1503
New York, New York 10001
Get Directions