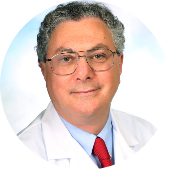 Alan Schimmel, MD
First Coast Cardio Institute
7011 AC Skinner Parkway
Suite 160
Jacksonville, Florida 32256

Dr. Alan Schimmel was born and raised in New York. He attended Massachusetts Institute of Technology as an undergraduate and went on to receive his medical degree from Buffalo Medical School. Dr. Schimmel completed his residency as well as his cardiology fellowship at Stony Brook University. He then found his way to Jacksonville, FL where he has been in private practice for almost 30 years practicing clinical, diagnostic and interventional cardiology. He was impressed with the level of dedication and compassion at First Coast Cardiovascular Institute and decided to join the team in January 2015.

In his free time, Dr. Schimmel enjoys time with his family. He shares two sons with his wife, Lisa. Scott, his oldest son, is currently employed in the finance field in New York City. Matthew, the youngest, followed his father's path in medicine and is currently a medical resident at John Hopkins University.

Dr. Schimmel enjoys playing golf and will watch just about any sport. He plays bridge and has previously participated in national tournaments. In addition, Dr, Schimmel volunteers his time as an alumni admissions interviewer for his Alma Mater, Massachusetts Institute of Technology.
Southside Office
7011 AC Skinner Parkway
Suite 160
Jacksonville, Florida 32256
Get Directions