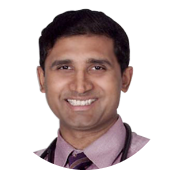 Ajay Varanasi, MD
Tampa Bay Diabetes Thyroid & Endocrinology Center
5775 5Th Ave N, St. Petersburg
St Petersburg, Florida 33710

When you have symptoms related to the endocrine system, your regular physician may try to determine the cause. However, your doctor may sometimes be unable to make a diagnosis. Endocrine glands may cause you to have various disorders that share common symptoms. As an endocrinologist, Dr. Varanasi has experience in differentiating between the disorders.

Dr. Varanasi and his staff foster a private physician to patient relationship and are committed to providing high-quality medical care and excellent service to our patients. We want to ensure that your expectations are met and provide the best possible care to every patient who comes through our doors.

Dr. Varanasi specializes in the diagnosis and treatment of the endocrine and metabolic system. He has special training in diseases that affect your glands and treats conditions that are often complex and involve many systems within your body.
5775 5Th Ave N, St. Petersburg
St Petersburg, Florida 33710
Get Directions